I'm so excited, this is my first blog train! :) It's called 'Summer Garden' and you can see all parts here: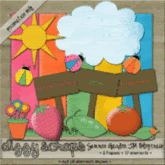 And here's my portion:
Download Full Size here
Download Tagger here
Make sure you grab the other parts of this train, they are all gorgeous and the ladies all worked very hard on them, so don't forget to leave 'em some love too!!
Snips and Snails Scraps
Tickle-me-Designs
Dizzy Scraps
Jewels Scraps
Law-Tee-Da Designs
Dorky Mommy Designs <--You are here!!
Mommatrish Designs